VIRGINIA IS AMERICA'S TOP STATE FOR BUSINESS, ACCORDING TO CNBC EXCLUSIVE STUDY
CNBC Special Correspondent Scott Cohn Revealed America's Top Five States for Business Today on CNBC
ENGLEWOOD CLIFFS, N.J., July 10, 2019—CNBC, First in Business Worldwide, today unveiled the results of its thirteenth annual list of America's Top States for Business with Virginia taking the number one position. The Old Dominion scored 1,610 out of 2,500 points.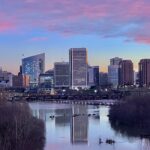 CNBC Special Correspondent Scott Cohn reported today live from Shenandoah River State Park in Bentonville, VA and counted down the top five states during CNBC's "Squawk Box" (M-F, 6AM-9AM ET) and on CNBC Digital. Coverage of America's Top States for Business will continue on-air and online through CNBC's Business Day programming today.
This is Virginia's fourth win, having previously taken the title in 2007, 2009 and 2011. The state has the nation's best workforce, including the fourth-highest concentration of science, technology, education and math (STEM) workers. Strong school test scores, small class sizes and a wealth of colleges and universities make Virginia's education system the best in the nation. And with Virginia Tech University announcing plans to build a new campus adjacent to Amazon's HQ2 focused on innovation, things could get even better.
"Virginia has come back in a big way by focusing on what businesses prize most these days—workforce," said Cohn. "The state is also cutting red tape. It doesn't hurt that the U.S. defense budget is rising—military spending accounts for a larger portion of the economy in Virginia than in any other state."
CNBC Digital offers a detailed analysis of how Virginia claimed the top spot including a complete economic snapshot (employment, budget, tax and housing data). The rankings for all 50 states are available at topstates.cnbc.com. In addition, the site also has exclusive stories, lists and videos including the best and worst states to live in, the least and most expensive states in 2019, among others.
This year's report also includes in-depth coverage—including exclusive new details—on two of the most significant economic development deals in recent memory: Amazon's $2.5 billion second headquarters to be located in Virginia and electronics manufacturer Foxconn's $10 billion manufacturing and technology complex in Wisconsin.
"Both of these projects embody the issues we explore in our Top States coverage every year, including the push and pull between economic development and taxpayer dollars," Cohn said.
Follow us on Twitter @CNBC and take part in the social conversation surrounding CNBC's Top States coverage using hashtag #TopStates.
CNBC's exclusive study scores all 50 states on 64 metrics across ten categories of competitiveness. The methodology grades the states based on the qualities they deem most important in attracting business. To do that, CNBC assigns a weight to each of the ten categories by analyzing every state's economic development marketing materials. The more frequently a selling point appears, the more weight it carries in the study.
America's Top 5 States for Business:
1. Virginia (Highest Rank – #1 in Workforce and Education; Lowest Rank – #35 in Cost of Doing Business)
2. Texas (Highest Rank – #3 in Access to Capital; Lowest Rank – #39 in Education)
3. North Carolina (Highest Rank – #1 in Economy; Lowest Rank – #35 in Quality of Life)
4. Utah (Highest Rank – #3 in Economy; Lowest Rank – #25 in Cost of Living)
5. Washington (Highest Rank – #2 in Technology & Innovation; Lowest Rank – #39 in Infrastructure)